Porcelain or ceramic tiles?
January 30, 2023 /
admin
/ 0 Comments
The advantages of tile can be listed endlessly: it is completely unafraid of moisture and very resistant to mechanical abrasion, not afraid of dirt and very easy to clean. Many are inclined to use tile as a floor covering or on the walls, and it's all thanks to these qualities.
Not so long ago, when choosing tiles for us there was only one option – ceramic or otherwise tiled tiles. But now our attention is porcelain tiles, and now what to choose: a ceramic tile or porcelain tiles? And what is better for the house you found on the website http://myhousewithme.com/?
Production of glazed tiles
Both of these varieties of tiles are made by pressing, that is, the composition of a mixture of clay, sand and minerals is pressed, followed by firing. After coating the tile with a layer of enamel, the tile is fired again. The enamel tiles are called bicottura and are used for tiling because they are more porous and less resistant, up to 10% moisture absorption
The process called monocottura is similar, the only difference being that a more powerful press is used and the temperature at which the tiles are fired is slightly higher. In addition, the tiles are fired only once and together with the enamel applied. Products produced in this way can be used both for finishing walls and for laying tiles on the floor, because it has a stronger enamel surface and a less porous structure, its moisture absorption is very low due to its low porosity and reaches 0.05%.
Production of porcelain stoneware
On the basis of monocottura technology, porcelain stoneware is produced, which is superior to single fired ceramic tiles in terms of its strength characteristics. From a mixture of clay, quartz sand and minerals, using an even more powerful press, tiles are formed, pre-colored throughout with color pigments. This is where the main difference lies: porcelain tiles are not covered with enamel, the color of the tiles is distributed evenly over the entire plane.
Despite the fact that the technology of monocottura itself gives tiles with high performance, for rooms with very high traffic required something even more stable. That is how porcelain stoneware was received, which initially did not look decorative and was only used to decorate the floor of public facilities. But over time, with the development and improvement of production technology, porcelain stoneware also appeared in apartments.
The first samples of porcelain stoneware were unpolished and had a rough surface, very similar to the surface of natural stone. Then porcelain stoneware began to be covered with glaze and polished, which gave the products a very presentable appearance. To use the polished porcelain stoneware in the apartment it is necessary only there, where the appearance of moisture is excluded, because it is very slippery.
Glazed porcelain tiles give a variety of structures, such as leather, wood or textile.  This allows you to solve many problems of interior design and to diversify it, but we must remember that glazed porcelain tiles are less resistant to mechanical abrasion, and over time in places of intensive walking on the floor wear and tear will be visible.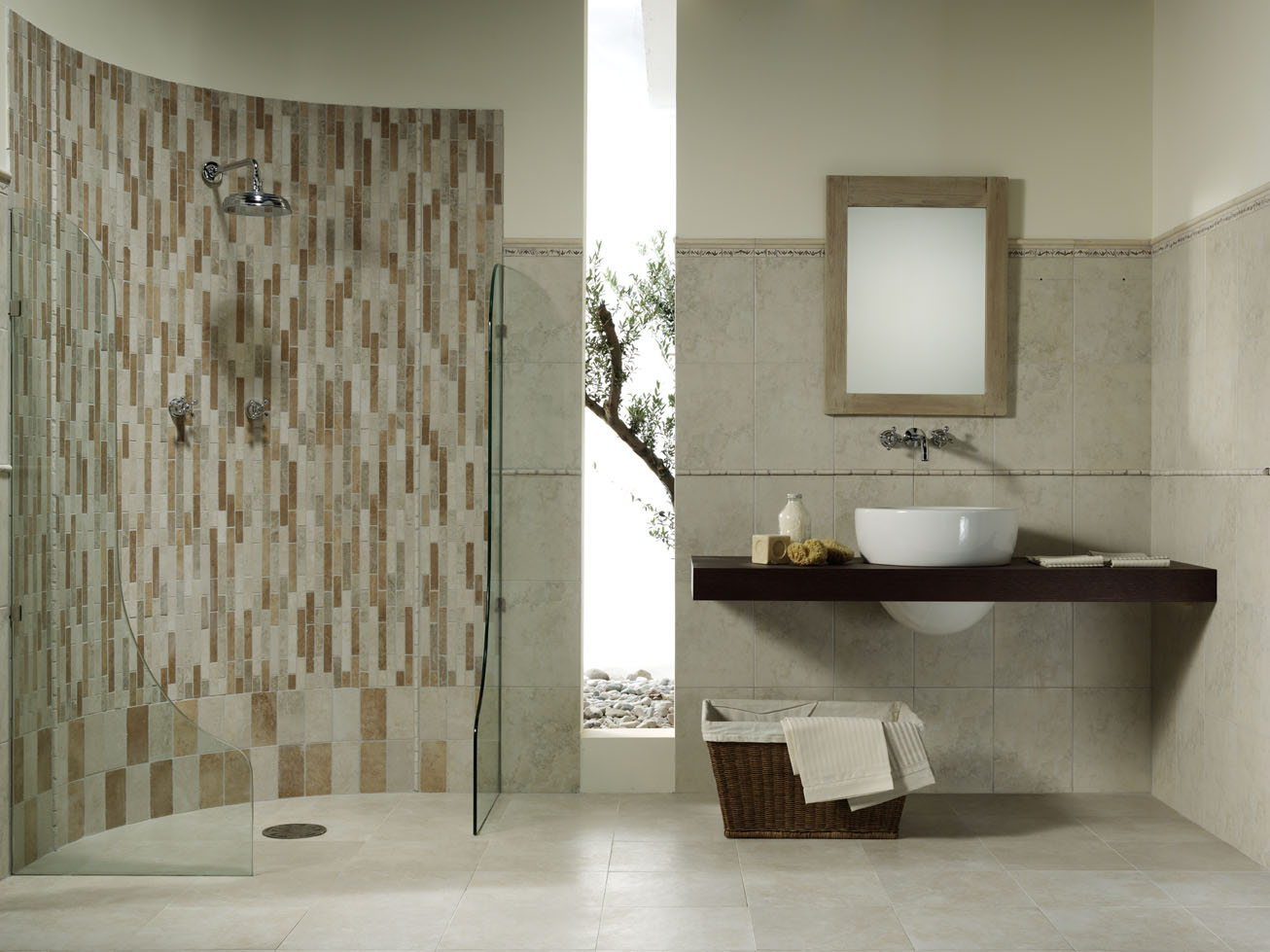 What is the difference between porcelain stoneware and ceramic tiles?
Given the similar properties of porcelain stoneware and ceramic tile, we can conclude that both products can be used to finish walls and floors. Only porcelain tiles are more resistant to mechanical stresses and not at all afraid of moisture, while the glazed tile with the right choice is ideal for finishing walls, floors, kitchen aprons, etc. 
Porcelain tiles are more suitable for floor tiling hallways, corridors or lobbies, where people often walk, sometimes without removing their shoes. For finishing porches, porches or for the device floors in the kitchen, it is well suited, but for all other premises better to opt for ceramic tiles. If the conditions of use of the premises do not require high levels of moisture resistance and durability, it makes no sense to overpay for those characteristics that will not be in demand, because porcelain tiles are more expensive.